I went yesterday to see a exhibition at the Kyoto Arts Center called 「幻ノ進化論―Saltationism」 (On the Evolution of Fantasy: Saltationism) by the artist EMOTO Hajime 江本創 (b. 1970).  This fun and playfully bizarre show featured a number of startlingly life-like mummies and skeletons of imaginary creatures that Emoto had created and displayed in shadow boxes like scientific specimens.
At the beginning of the exhibition, there was a sign stating that Emoto had just returned from a long trip with an (imaginary) Russian scientist, who had toured the world collecting strange creatures.  Also, there was a large quotation from a seemingly scientific text reminding us that over the billions of years of world history, countless creatures had come into being and gone extinct. Beneath each of the lovingly created creatures, Emoto had placed a label with genus species names, information about where the "specimens" had been collected, plus reflections on the creature and its evolutionary past. Nowhere in the exhibition does the display step out of character to discuss how exactly Emoto made these life-like monsters, helping to preserve the illusion that what one is seeing is a collection of real specimens.  
For instance, the notes accompanying the "ribbed squid" explain it was found in the South Pacific.  Invertebrates such as squid, he tells us, should not have a skeletal structure, but this figure had managed to evolve a bony structure in order to protect its internal organs.  In a humorous touch, he notes that this creature was used among natives of the South Pacific as a penis sheath.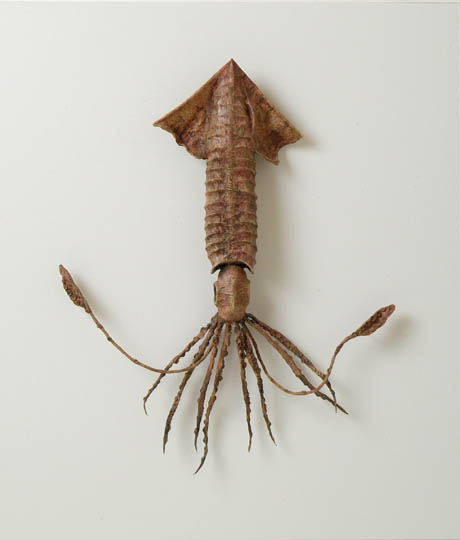 There was a wall of creatures inspired by Western fairy tales, such as winged demons, mini-dragons, and gargoyles, "collected" from various places in Europe, such as the strikingly lifelike skeleton of a "Dragon" pictured above.  In the text accompanying this and the other dragons on display, he explained that larger ones had apparently come in contact with humans and been largely exterminated, so dragons evolved to become increasingly small.
Also, in another part of the show, he had a number of "creatures" collected from a monestary in southern France.  According to the sign, the inhabitants had treated them as the person-ification of the Seven Deadly Sins.  The one, for instance, associated with avarice was chubby and had big, hungry-looking teeth, while the one associated with lust looked like a big phallus with legs.  (For pictures of this series of creatures, click here.)
In creating a world, full of fantastic creatures, Emoto seemed to be playfully suggesting  how little we know about the natural world.  His shadow boxes and old-fashioned presentations, complete with purposefully aged labels, had a steampunk sensibility, hearkening back to an early moment in early 20th century scientific history when the natural world was still full of mystery, and explorers still traveled the world in search of new discoveries.  The world, he seems to be suggesting, is a strange place, not fully understandable through the operations of science alone, despite our attempts to try.
At the same time, he also seems to be hinting at how important it is to us, as human beings, to try to understand the world (and even the imaginary) through the lens of rationality and science.  Part of the fun and adventure of this exhibition is to show how bizarre it looks when one attempts to apply scientific rationality to things that do not always make perfect sense. 
Interestingly, in this exhibition, the "mysterious world" from which the pieces came was not just the South Pacific, South America, and other "exotic" places, as it was to 19th and early 20th century explorers.  The sources of these strange creatures also also encompassed Europe, which had been made to look every bit as primitive and unfamiliar as the developing world, thanks to all of its fairy tales and weird legends.  At the same time, none of the creatures were supposed to have come from Japan.   Could it be that in Emoto's eyes, Japan is too rational a nation for dreams? 
For Emoto's webpage (Japanese only), click here.  The webpages contain an extensive gallery of Emoto's creations.